Tama, the cat that saved a company from bankruptcy
Intuitive, curious, winding and elegant when walking. Stylized, refined and pointed features. Capricious, some may say. Smart, free and territorial. Metaphysical. Reckless. They like to show off and be admired. If their fur were black, they would bring bad luck —I don´t think so, neither believe it—. After all, at night, all cats are black (grey).
With seven lives up their sleeves, they don´t hesitate at taking any risk or embarking on an adventure because —regardless of how their bets turn out —they know for sure, that they always fall to their feet.
Perhaps for that reason, Tama did not shake her pulse when she saved the Kishi train station from bankruptcy, located in the town of Kinokawa, thirty minutes from the city of Wakashama, southeast of Japan.
Kishi-Kinokawa train station
---
From the tourist spots of the rising sun country, Kinokawa is not, perhaps, one of the most attractive or known. Perhaps for that reason, and especially between 2000 and 2004, the Kishi train station was not one of the busiest. Therefore, Nankai Electric Railway, which managed this route, had to stop operating because of financial difficulties.
The Wakayama Electric Railway took over the route, but financial problems persisted as passenger numbers continued being low. In 2006 the company decided to reduce costs, so all trains of the Kishikawa line would no longer have crew on board and station managers would be selected from villagers near each of the train stations.
For Kishi's, they assigned a lady who lived with many cats, and among them Tama, a beautiful Calico cat.
In a short time she stood out, not only for her beauty, but also for her kindness. She was responsible for receiving and sending all passengers on the line. Because of her charm and empathy, she soon made herself be loved, and for that reason and as a last resort to save the company from bankruptcy, management appointed Tama as Station Chief… with a uniform, hat and everything.
Tama, Kishi-Wakayama station chief
---
Said and done: after a month of her appointment, the number of passengers increased by 17% and the company's profits grew to ¥ 1,100 million. Many of the people who visited the station were not going to take the train but to take pictures with her.
For this reason Tama was promoted to Super Chief of Station and, on the day of her appointment, both the President of the company and the mayor of the town were present. Tama became the first female, although not human, to occupy a managerial position. Some time later, one of the trains would take her name and she would become honorary president.
Tama's Office
Tama train
---
After exhausting her seven lives, Tama became a legend and was replaced by another cat, Nitama (or Tama the second). At the station there is a sanctuary in her honor, which many passengers visit daily. In it you can see a statue of Tama with the raised leg, like the maneki-neko, or luck and abundance cat.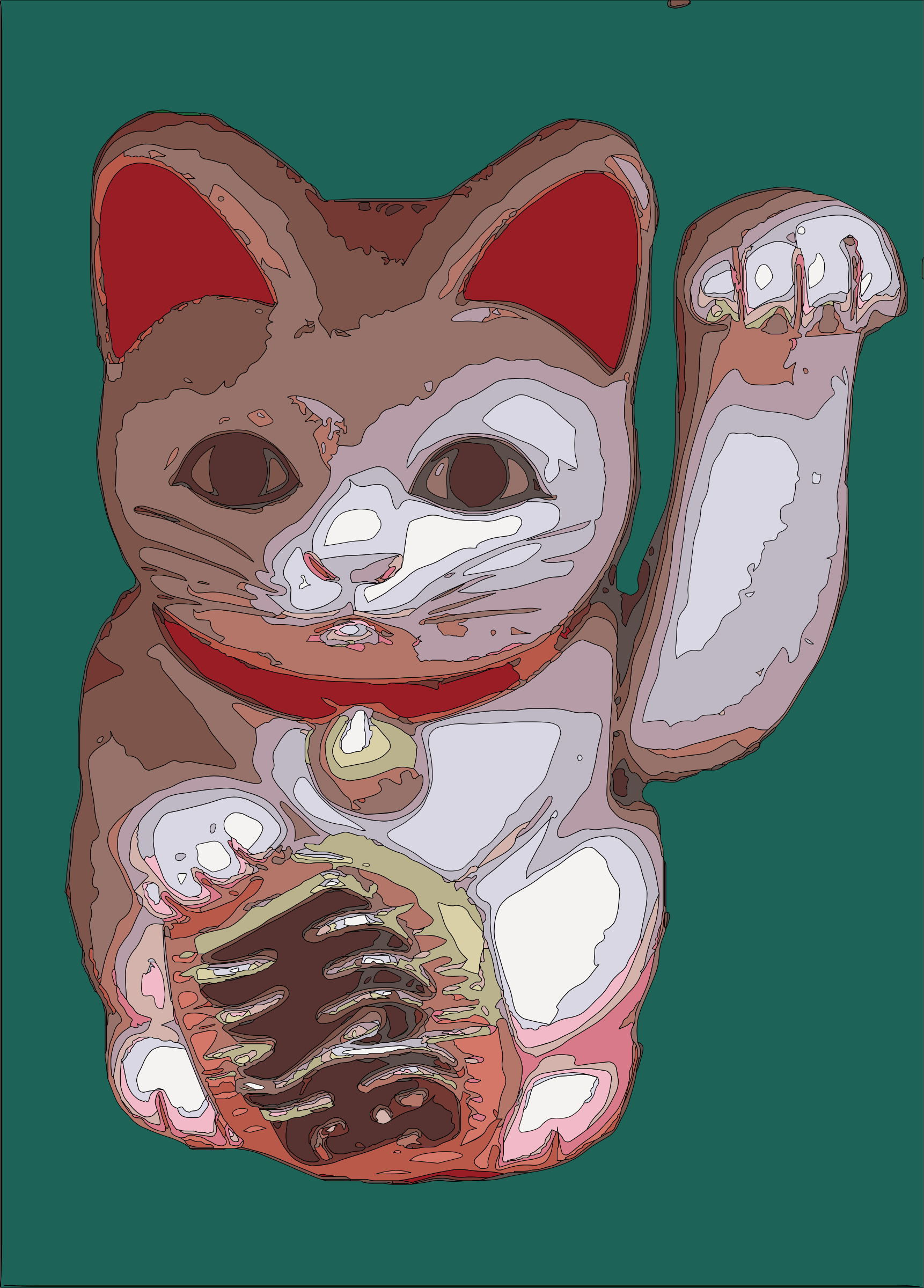 Maneki Neko or Lucky Cat
---
While investigating this interesting story, I could not help but wonder how did she succeed. Was it her charisma? Her likeability? Her audacity? What is the relationship between Tama and the maneki-neko? What do these domestic cats symbolize in the Nippon tradition? And although curiosity killed the cat, as they say out there, I started to investigate.
The truth is that they are very important and have a leading role both in history and in the daily practices of the Japanese.
Cats have always been great allies of them: in ancient times they made their contribution to the silk industry, since the Japanese came to the cats to eliminate the mice that ate the worms that produced that material. In addition, because Japan is an island, it is subject to climatic fluctuations and cats have the sensitivity to anticipate storms, for example; this has been very useful for the fishing industry, among others. Hence the island of Tashiro was populated mainly by cats and fishermen, who in exchange for weather forecast, fed the cats with good fish. Of course, dogs are not welcome there.
Cats stroll freely through the novels of Haruki Murakami. They have in their possession a subgenre of haiku, or poem, called nekonokoi, or cat's love. They do not go unnoticed in manga, or comic books, nor anime, or cartoons. The Hello Kitty brand, in its logo, bears the figure of a cat. In different cities in Japan there are Cat Cafes, or themed bars with cats: many people come to these types of bars to play with them and thus free themselves from daily stress.